A tenth person has sadly died in the aftermath of Travis Scott's Astroworld concert.
The 9-year-old boy is believed to have died from the injuries sustained at the festival.
It comes after hundreds of fans were seriously injured after thousands rammed into the already packed out arena…
Scroll on for all the latest.
Now, the tragedy occurred at the opening night of Travis Scott's Astroworld Festival in Houston, Texas.
Ten people tragically died at the festival with hundreds more injured after a crowd surge took place.
Since the news broke, tributes have been pouring in for those who lost their lives…
The crowd surge began around 9 PM on Friday November 5, during the rapper's headline set at the site of the former Houston Six Flags park.
Crowds are said to have pressed towards the front of the stage as the rapper performed, causing panic to break out.
As the crowd surge grew, crushing began and people started to get injured, the BBC reports.
An estimated 50,000 people were in attendance for the 2-day festival, which has since been canceled.
Around 300 people were treated for injuries such as cuts and bruises.
And sadly, 10 people lost their lives during the incident.
Houston Police Executive Assistant Chief Larry Satterwhite, told the Associated Press that they "had several people down on the ground."
"Suddenly we had several people down on the ground, experiencing some type of cardiac arrest or some type of medical episode," he said. "And so we immediately started doing CPR, and moving people right then, and that's when I went and met with the promoters, and Live Nation, and they agreed to end early in the interest of public safety."
An attendee of the festival told KHOU that if "you didn't jump, you would fall."
"In the front, there was a lot of jumping. If you didn't jump, you would fall and get trampled on, definitely. The crowd is pushing back and forth. If you were even a little tired, you were going to fall."
After the events of the festival began to emerge, Travis Scott issued a statement.
In the statement, he claimed he was "absolutely devastated" by the incident and that the police looking into it have his "total support."
"I'm absolutely devastated by what took place last night. My prayers go out to the families and all those impacted by what happened at Astroworld Festival," he wrote.
"Houston PD has my total support as they continue to look into the tragic loss of life."
He also posted a video on social media "sending out prayers to the ones that were lost" during his concert…
However, his fans say he appears to be putting on an act and that his "body language" doesn't seem remorseful in the slightest…
Scotts' partner, Kylie Jenner also issued a statement about the festival in which she defended Scott.
In the statement, Kylie said she wanted to make it clear that they "weren't aware of any fatalities" until "after the show."
"I am sending my deepest condolences to all the families during this difficult time and will be praying for the healing of everyone who has been impacted," she said.
"And also for Travis who I know cares deeply for his fans and the Houston community, I want to make it clear we weren't aware of any fatalities until the news came out after the show, and in no world would have continued filming or performing."
Some are holding Travis Scott somewhat accountable for the tragedy.
As many believe he should have stopped the show.
Social media users have also been posting clips of other artist and their reactions to similar events…
With most completely halting their shows when they see fans in distress.
And now following the tragic event it has been announced that a tenth person has died due to injuries sustained at the festival.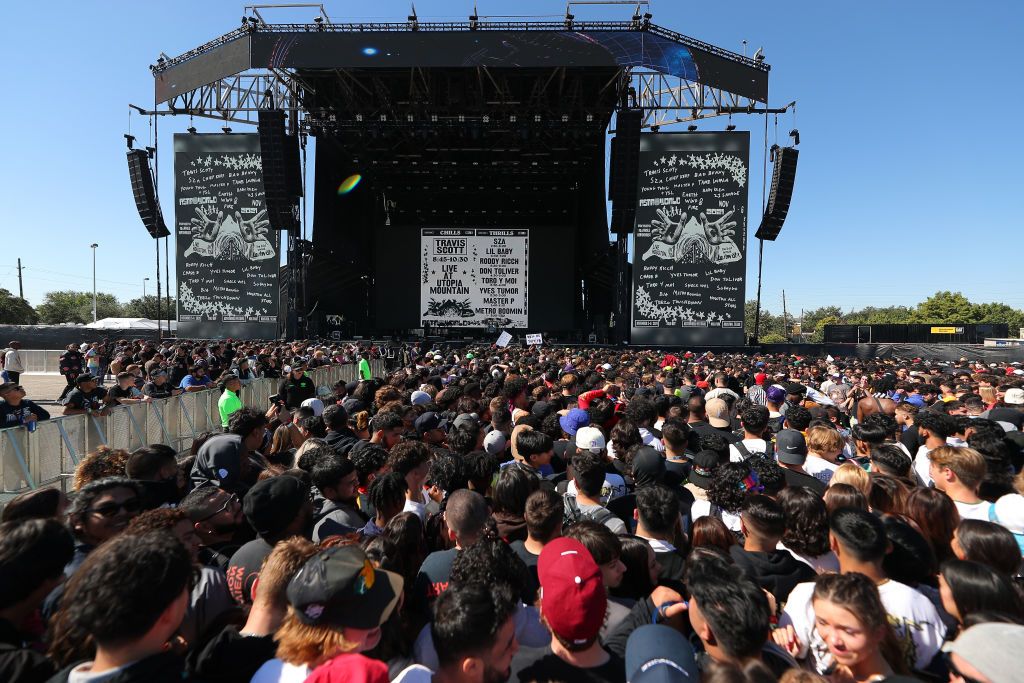 A 9-year-old boy has died from injuries sustained at the festival after he was trampled on.
Ezra Blount was attending the festival with his dad and was sitting on his shoulders when the surge began, the New York Post reports.
His dad couldn't breathe due to the pressure and passed out, meaning Ezra fell into the crowd.
Ezra's grandfather told KTRK-TV: "My son had Ezra on his shoulders at the concert and my son couldn't breathe because of all the pressure that was being applied to him and he passed out. And when he passed out, Ezra fell into the crowd. He was trampled really bad."
When Ezra's dad came round, his son had been taken to the hospital as he'd suffered a cardiac arrest.
His grandfather told ABC 13 that Ezra "was listed as a John Doe because nobody knew his name and the father was still at the venue in the medical facilities."
Ezra is believed to have suffered from brain swelling and damages to his kidney, lungs, and heart.
Ezra's family has hired attorney Ben Crump, known for representing George Floyd's family, who said that Ezra's coma has been medically induced to help combat his brain trauma.
In a statement, he said: "This little boy had his whole life ahead of him, a life that is currently hanging in the balance because of the reckless mismanagement that ensued at the Astroworld Festival.
"We ask everyone to send up the most powerful prayers they can as this family tries to grapple with the undoable damage that has been done to their son. We demand justice for EB, his family, and all of our clients that left Astroworld with trauma."
But sadly, Ezra has since succumbed to his injuries.
The 9-year-old died on Sunday at Texas Children's Hospital, TMZ reports.
In a statement shared on Twitter, Crump described Ezra's death as "heartbreaking."
"The Blount family tonight is grieving the incomprehensible loss of their precious young son," the statement read. "This should not have been the outcome of taking their son to a concert, what should have been a joyful celebration. Ezra's death is absolutely heartbreaking. We are committed to seeking answers and justice for the Blount family. But tonight we stand in solidarity with the family, in grief, and in prayer."
Ezra is the tenth person to die after the tragic Astroworld festival.
Our thoughts are with his family and friends during this difficult time.
Rest in peace, Ezra Blount.